From The Wall Street Journal:
Syriza Victory in Greek Election Roils European Debate Over Austerity
Leftist Party's Win Is Likely to Embolden Populist Movements Elsewhere in Eurozone
By Marcus Walker | Jan. 25, 2015 8:33 p.m. ET

BERLIN—For five years, Europe's common-currency bloc has squabbled over whether the solution to its economic crisis lies in slimming the state and deregulating markets, or in more expansionary fiscal and monetary policies.

The battle lines just got messier, the way out even less clear.

Since the start of the eurozone's debt crisis, the bloc's wealthier countries—led by Germany—have largely prevailed in pushing economic overhauls, not stimulus, as the main way to nurse indebted nations to financial health. Now, eurozone voters are in open revolt against such fiscal strictures, while the European Central Bank just overthrew German monetary orthodoxy.

Sunday's historic victory for the radical left-wing Syriza party in Greece's elections is likely to embolden populist movements in other eurozone countries, including Spain, France and Italy, which reject German-sponsored austerity.
More at the original.
It was the subtitle, "Leftist Party's Win Is Likely to Embolden Populist Movements Elsewhere in Eurozone," which caught my attention: the Journal is suggesting that people in democracies all across Europe may decide, well, Hell, why should we pay our bills? It's the almost inevitable conclusion of the silly Occupy movement, where people who have been living better than their production supported decided that they didn't want to have to actually pay for past profligacy.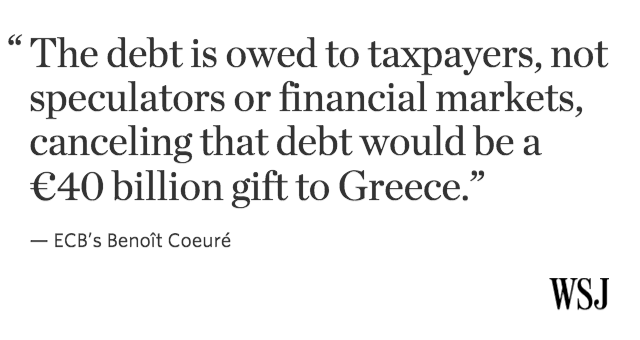 Well, no, the debt is not owed to taxpayers; the debt is owed by taxpayers, who would not have accumulated that debt had they paid enough in taxes to support the spending of the governments they elected. But, had they paid enough in taxes to keep their budgets balanced, then they'd have had less money themselves, and not lived as well. It was the financiers who provided than money for them to live better. That €40 billion gift would be the gift of the taxpayers not having to pay what they owe, but it would be a €40 billion theft from the people who had loaned their hard-earned money to the Greeks.
Of course, for the Occupods, owing money to people who actually earned money, well they're the evil 1%ers, so it's just Social Justice not to pay them back!
The sad part is that the austerity program was working for Greece, but the Greeks were apparently not nearly as interested in getting their government and their country on a sounder financial footing than they were in having more money in their wallets. That's understandable enough, I suppose, but the real result will be that their government will go broke, and they'll still have to live no better than their own production will support. Anyone who lends the Greeks money after yesterday's elections is Just Plain Stupid, and deserves any losses he takes.
________________________
Related Stories from The Wall Street Journal: