From The Pirate's Cove:
Welcome To Raleigh Snowmageddon
By William Teach February 12, 2014 – 6:19 pm

Yes, I'm usually kind of lame at responding to comments during the day. That whole work thing, and it being kind of a pain to type that much on an Android. I have a good excuse for today: I left work around 2pm, and walked in my door at 547pm.

[snip]

I'm actually a bit shaky and feel anxious after that white knuckle drive. Oh, and hungry. No lunch.
The important thing is that he did make it home, safely, even if his normal 30 minute drive took 3¾ hours.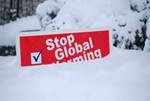 As for me, Winter Storm Pax, as the Weather Channel calls it, hasn't hit northeastern Pennsylvania yet. Right now, the forecast is for snow to begin around midnight, with 1 to 3 inches of global warming by sunrise, and another 3 to 5 inches during the day; I'm hoping that we're on the lower end of those predictions.
The good news is that everybody is home, and no one other than me is scheduled to work tomorrow; if the forecast pans out, I won't go in, either, but will wait until the snow has passed, and then go in to plow the yard. There certainly won't be an concrete mixers going out tomorrow!
It's supposed to be a heavier, wetter snow, the kind that brings down power lines. So, we've charged up all of the flashlights and Kindles, just in case, but I'm hoping that the sparktricity stays on.