By Adam Mann| 06.27.13 | 2:20 PM

Not content with simply being the man-made object to travel farthest from Earth, NASA's Voyager 1 spacecraft recently entered a bizarre new region at the solar system's edge that has physicists baffled. Their theories don't predict anything like it.

Launched 36 years ago, Voyager 1 and its twin Voyager 2 made an unprecedented tour of the outer planets, returning spectacular data from their journey. The first Voyager sped out of the solar system in 1980 and it has since been edging closer and closer to interstellar space. The probe is currently out more than 120 times the distance between the Earth and the sun.

Scientists initially thought that Voyager's transition into this new realm, where effects from the rest of the galaxy become more pronounced, would be gradual and unexciting. But it's proven to be far more complicated than anything researchers had imagined, with the spacecraft now encountering a strange region that scientists are struggling to make sense of.

"The models that have been thought to predict what should happen are all incorrect," said physicist Stamatios Krimigis of the Johns Hopkins University Applied Physics Laboratory, who is lead author of one of three new papers on Voyager appearing in Science on June 27. "We essentially have absolutely no reliable roadmap of what to expect at this point."
More at the link.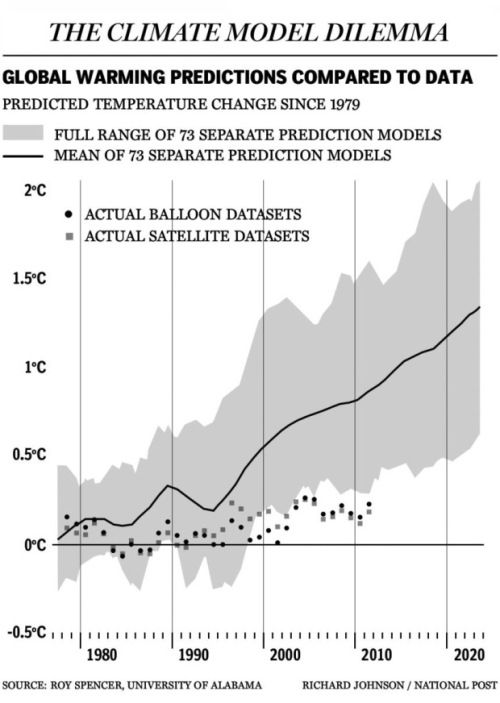 When I read the story, I thought of this chart, provided by William Teach, noting that the measured effects of global warming are falling completely outside of the predicted ranges. If astrophysicists' calculations have been proved completely wrong when attempting to project what they believed would be encountered, why do the warmists have such religious faith in the projections of those who claim that we are all doomed due to global warming, especially when the measured data do not confirm the theory's projections?
Of course, the astrophysicists were able to admit that they were wrong, that the data do not confirm what they expected to find. There is, of course, no political agenda in their studies, no great policy implications are dependent upon the measured direction of cosmic rays.
But for the warmists, they are so wedded to their theories, and so absolutely determined to put in place policies which will impoverish working Americans, that no amount of actual data will change their minds.
It isn't a matter of settled science, but a matter of closed minds.