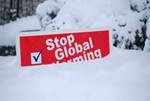 During yesterday's snow, I shoveled my sidewalk. I also went down the street two houses, because the people living there are elderly, and I usually do their sidewalks for them. The (adult) children of the nearer of those people sometimes do my sidewalks, ever since I cleared theirs during a big storm when I had the snowblower out. (Yesterday's two inches of light, fluffy snow wasn't enough for me to get out the snowblower.)
Well, yesterday, I also went up the street, and shoveled the snow at my neighbors' house, and those neighbors are not elderly; they look to be a bit younger than me. It was something to do, and, quite frankly, I was outside, nervous, waiting for my darling bride to get home from work.
So, this morning, when I checked outside to see how much snow I had to shovel, the answer was: none at all! Someone had shoveled my sidewalks, including up to the front porch. I don't know who it was, though I'm guessing that Pete, the neighbor up the street, was the neighborly guy, judging by the clearing pattern.
Isn't it amazing how well stuff like that works? You do things for other people, and they wind up doing things for you.