Thanks to Scott Jacobs, I found this gem:
By Ed Farnan | Posted on Friday, January 11, 2013 at 11:29 AM

Followers/True Believes of Mr. Gore, burn with religious fervor as they recite historic temperature variations & green house gas concentrations, proving the earth is headed towards certain destruction due to the burning of fossil fuels. We must repent now!

But all the while, Mr. Gore was making hundreds of millions from his "work" and many of the green movements/companies that get government funding, have Mr. Gore's fingerprints on them somewhere.

But crushingly, Gore's followers are starting to realize Mr. Gore's feet are made of clay.  He sold his failing "Current" cable-television station for about $500 million, which he personally gets 100 million, to the anti-American Al-Jazeera media company…which is owned by the fossil-fuel-rich royal family of Qatar.

Gore rushed to close the deal before the first of the year to avoid the very capital-gains tax hikes that he has advocated for others less well off.1

In one fell swoop Mr. Gore has enhanced a fossil-fuel consortium, attempted to beat tax hikes he has advocated that others should pay and empowered an anti-American/anti-Semitic media conglomerate.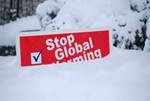 More at the link. Mr Farnan continues to tell us about the shock and disappointment of the employees of Current TV.
At some point, it has to be asked how the oh-so-idealistic sycophants of Mr Gore managed to miss all of the hypocrisy in his life before he sold Current to al-Jazeera. He had a house in Nashville that burned through kilowatts well in excess of anything reasonable, he bought a second house that burned through a lot of electricity — do you really need a fountain all day long, with the concomitant electric use? — and he tried to cover it up by buying "carbon credits" that he sold himself.2 He flies all around the world, telling people to reduce their carbon footprints, burning through tons and tons of jet fuel. If Mr Gore's now-former employees were confused and mislead, it is because they were either hopelessly naïve, willing dupes, or just plain stupid.
____________________________________
And now it turns out that Mr Gore is estimated to be wealthier than that oh-so-wickedly-wealthy Mitt Romney. ↩
But it turns out he pays for his extra-large carbon footprint through Generation Investment Management, a London-based company with offices in Washington, D.C., for which he serves as chairman. The company was established to take financial advantage of new technologies and solutions related to combating "global warming," reports blogger Bill Hobbs.

Generation Investment Management's U.S. branch is headed by a former Gore staffer and fund-raiser, Peter S. Knight, who once was the target of probes by the Federal Election Commission and the Department of Justice. . . .

"In other words, he 'buys' his 'carbon offsets' from himself, through a transaction designed to boost his own investments and return a profit to himself," Hobbs writes. "To be blunt, Gore doesn't buy 'carbon offsets' through Generation Investment Management – he buys stocks." ↩