The tweet caught my eye:
Even if the economy grows at a modest 3% over the next few years, Trump will likely be able to take a victory lap. https://t.co/DWoHMJPa1S

— CNNMoney (@CNNMoney) March 22, 2017
Modest? By long-term historical standards, certainly, but the professional economists, including the Federal Reserve, seem to think that roughly 2% is the new maximum sustainable growth. The article:
by Paul R. La Monica | March 22, 2017: 12:40 PM ET

Few mainstream economists believe that President Trump will be able to get the U.S. economy growing at an annualized rate of 4% anytime soon. But he may not have to live up to that promise.

Even if the economy grows at a more modest 3% clip over the next few years, Trump will likely be able to take a victory lap.

Why would 3% be the magic number for Trump? For starters, a 3% growth rate is better than what the U.S. economy has experienced lately. GDP has hovered around 2% or so.

If the economy gains enough steam so that 3% growth is sustainable, that would probably mean even more job creation, higher wages, increased productivity and stable stock and housing markets. In other words, Wall Street and Main Street will approve.

Is 3% doable? A lot may depend on how quickly Trump is able to get his numerous economic proposals through Congress.

Tax reform. More infrastructure spending. A rollback of Obama-era regulations on banks and health care companies. Trump has a lot on his plate.

But Bill Sandbrook, CEO of U.S. Concrete (USCR), thinks Trump will be able to deliver 3% growth.

Sandbrook voted for Trump and he continues to be impressed by the fact that the president is willing to have an open dialogue with business leaders about what needs to be done to boost the U.S. economy.

He thinks that more companies will start to hire more because there is increased confidence about what's going on in Washington.
Considering the anemic, roughly 2% real GDP growth during the Obama Administration, 3% wouldn't seem terribly "modest" to me. And for Janet Yellen and the Federal Reserve, it's way too much! From The New York Times:
By Binyamin Appelbaum | December 13, 2016

WASHINGTON — Investors in financial markets, and those predicting faster economic growth in 2017, would do well to remember the famous words that William McChesney Martin Jr., the former Federal Reserve chairman, uttered way back in 1955: The Fed's job is to remove the punch bowl just as the party gets going.

President-elect Donald J. Trump's promises to cut taxes and regulation and to increase spending on infrastructure and defense have convinced many that a sugar high in the near term will goose the economy. But Fed officials say the economy is already expanding at something close to its maximum sustainable pace, meaning faster growth would drive inflation toward unwelcome levels.

To avoid overheating, the Fed could respond by raising interest rates more quickly. The more Mr. Trump stimulates growth, the faster the Fed is likely to increase rates. .  .  .  .

"Our No. 1 priority is going to be the economy, get back to 3 to 4 percent growth," Steven Mnuchin, Mr. Trump's pick to serve as Treasury secretary, said last month.

Many economists regard such growth predictions as fanciful; the economy has been mired in an extended period of slow growth and the reasons, including an aging population and a dearth of innovation, are unlikely to change quickly. Some think Mr. Trump is more likely to push the economy into recession than to catalyze a new boom.

Even if Mr. Trump is right, however, the Fed does not want 4 percent growth.

The central bank's outlook has become increasingly gloomy. Officials estimated in September that annual growth of 1.8 percent was the maximum sustainable pace, and they predicted growth would not exceed 2 percent in the next three years.
There's more at the link; the emphasis was mine.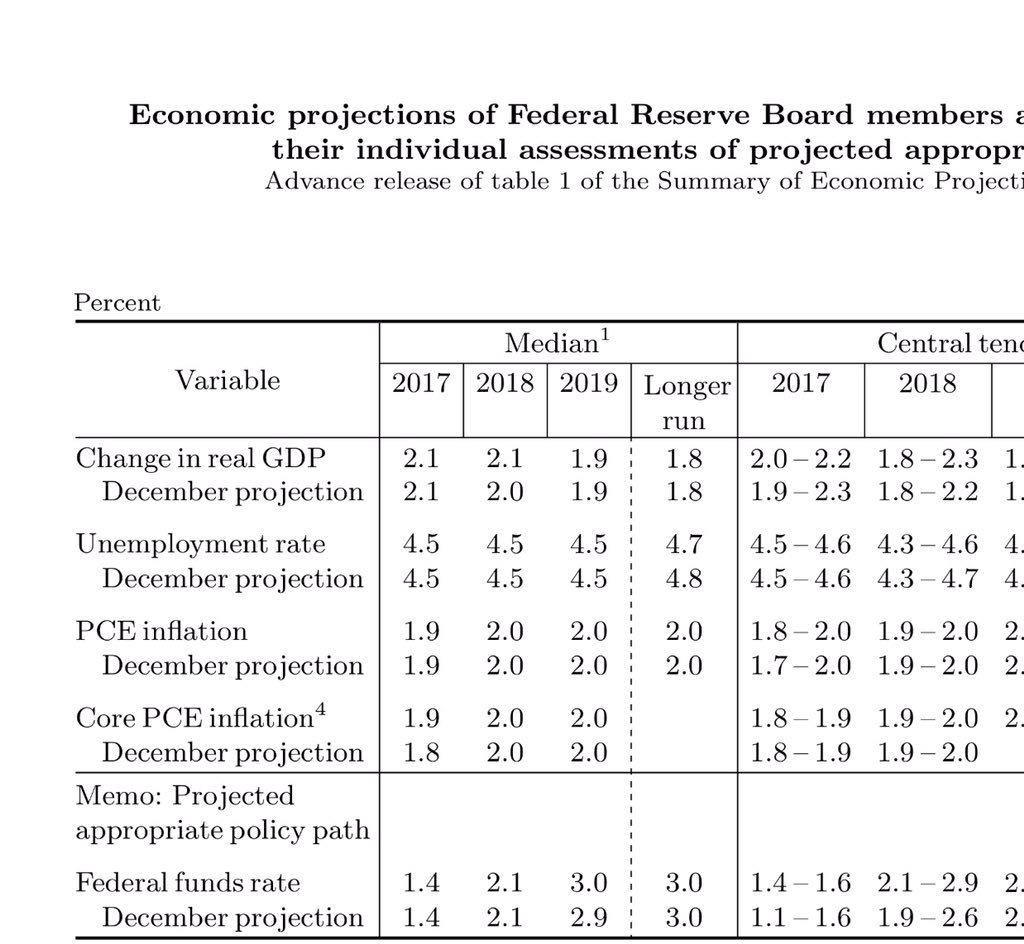 The article was from last December, but we have already noted that the Fed are already doing their best to put the brakes on economic growth.  It's been made quite clear that the Fed not only don't believe that economic growth or much more than 2% is sustainable, but that they will fight any attempts by the Trump Administration to achieve higher growth. While I have previously said that I do not believe that any 'stimulus' program would be a good idea, the President has yet to present any stimulus program, but the Fed are already raising rates to slow down whatever economic growth there is.  The President's calls for regulatory reform to get out of the way of economic activity hardly seem something which ought to anger Dr Yellen, but the Fed raised interest rates a total of fifty basis points (combined) at their December and March meetings, and their meeting report indicated that they still plan on two more increases this year, and three increases in 2018 and 2019.
And, as the chart at the right indicates, the Fed project GDP growth at 2.1% for this year and next, dropping to 1.9% in 2019. It wouldn't surprise me in the slightest if the Fed continued policies to hold growth down to those ranges. After all, every one of the five members of the Board of Governors was appointed by President Obama, and one of them, Lael Brainard, contributed the maximum amount allowable under the law to Hillary Clinton's campaign.1
One more paragraph from the Times article:
For years, Fed officials urged Congress to increase fiscal spending. Now, Mr. Trump is promising to do just that — and the Fed has concluded that it is too late.
I suppose that the Fed are now becoming deficit hawks, the way the esteemed Paul Krugman, Nobel laureate and New York Times columnist flip-flopped on deficits once Mr Trump won the 2016 election.2 Somehow, I find it difficult to believe that the Fed's change of heart is not a direct reflection of the election results.
Will we see improved economic growth during the Trump Administration?  Nobody knows, of course, but if 3% real growth is achieved, it won't be because the Fed or the Democrats or the left didn't fight it.
____________________
It should be noted that I have not flip-flopped on deficits, being critical of President Obama's wasteful spending and stating that I opposed such plans by President Trump. ↩